Posted on
September 29th, 2010
by Jaclyn Roth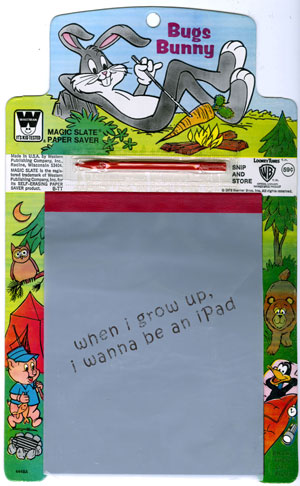 I recently got an iPad for me and my girlfriend. Our laptop was on its way out and we have a new desktop that works perfectly. I didn't want to get another laptop so I settled in the middle and got the iPad since all we really wanted was easy access to the Internet when we were lounging around. I'm not going to lie. This thing is awesome. They have apps for everything. I'm pretty sure there's an app that will tie your shoes and do your laundry for you — for just $9.99! Anyway, all was going well with our new toy. We bought a fresh black case for it and a screen protector. We're careful about where we put it — ya know, the way you are with your baby the first few weeks of its life. And then it happened. She found it. I turn around one day and there she is — My 4-year-old — sitting on the couch, playing with Google Maps (insert screeching tire sound here). Ohhhhh no. Nope. No. Put down the iPad. Nice and slow. She wasn't having it. It was a showdown. I'm not even going to get into the back and forth of it all. She won. You knew she'd win, I knew she'd win — hell, there was an app on the fucking iPad that was telling me to just give it up.
So naturally I gave in and we downloaded some games for her. Thankfully, the people at Apple were nice enough to create a ton of educational apps for kids her age. She plays this cupcake memory game, a game called Angry Birds, which I'm not going to lie — is awesome — and actually not educational at all, and definitely not age appropriate, but whatever. Add it to the list of shit I'm doing wrong as a parent. She can take it up with her middle-aged Jewish therapist that's going to blame me for everything wrong in her life anyway. May as well enjoy myself now.
It's amazing to sit and watch her navigate this thing that my mother sat and stared at for 45 minutes and then finally asked me, "What the hell is that thing?" Oh mom. But can you blame her?
Our version of the iPad as kids was the Magic Slate. And let me tell you, that fucking thing kept me busy for hours! You could draw, play hangman, tic tac toe — talk about apps. And all that for the price of $0.99. So basically — Apple ripped off the Magic Slate. If I were Magic Slate, I'd sue.
I'm definitely one of those people that loves seeing kids outside riding bikes and playing stick ball. My daughter is outside every day, at the park, riding her scooter, hanging upside down on monkey bars and making my heart fall into my stomach — all that good stuff. But I can't deny the fact that these kids are growing up in a world where technology is paramount. I try to keep my kid balanced. I think I'm doing an OK job. At least she's not walking down the street, on her cell phone, while playing with her iTouch and ignoring me. No no no… that comes next year!
I guess the best I can do is keep her grounded and teach her patience and understanding. For example, when I'm on a roll on Angry Birds, chill the fuck out and wait your turn.
Going Parental appears every Wednesday. Angry Birds appear everywhere — and not just on my iPad. You should see what they do to my car the minute I get a car wash. Little bastards. What the hell are they so angry about anyway?
Latest posts by Jaclyn Roth (Posts)
Tweet
Print This Post