Posted on
April 29th, 2010
by Mike McGowan
The website FirstThings.com has an interesting story up, one I'm sure a few of you have seen.  It is entitled "Obama and Big Sis call out riot police on Quincy TEA Party patriots".
Apparently someone felt that a bunch of little old ladies posed a significant threat!
Now, this was obviously a political ploy…  The weekend had been filled with pictures of people protesting the Arizona immigration law, somewhat violently, and the resulting clashes with police.
In one instance we had pepper spray being used on angry protesters, in the other, salt and pepper (hair) waving signs from across the street while singing God Bless America.
But as obvious as the tactics being used are, this is still going to be an inconvenience to the TEA Parties.  The MSM doesn't care that the TEA Parties aren't violent, that they resemble nothing like the Arizona protests, or any other libby protest, for that matter…
The MSM is going to continue to run stories about how peaceful the immigration protests are, and how violent and angry your grandmother gets when she goes to protest Big Government, high tax rates, and the cutting of her Medicaid.
BUT!
I have identified the TEA Party's secret weapon.
Cookies.
That's right!  Gooey, rich, fresh-from-the-oven cookies.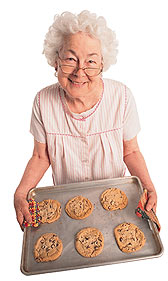 Look, we all understand what the MSM is trying to do here.  They're trying to show that the TEA Parties are violent, angry mobs, and they're frustrated that the image they're trying to hang on the TEA Parties is completely unrealistic.  All they need is one still picture of TEA Party protesters getting angry with cops and they can unload on the movement with both barrels, so they're trying to drum up that picture.
From parading the Congressional Black Caucus around trying to solicit racist cat-calls to the Speaker of the House calling them Nazis, the left needs the right to rise up in anger.  They need TEA Party protests to look like the weekend's Arizona protests.
Well, since we know what their goal is, let's work to deny it to them.
If they want pictures of TEA Party people fighting with police, let's give them little old ladies sharing cookies with cops.
You can't get that many 80 year old women together, in Illinois or anywhere else in the heartland, and not find one of the World's Most Amazing Cookie Recipes.
Those cops look awfully hot in that black riot armor…  Maybe they'd feel a bit more refreshed with a cold glass of milk and some fresh cookies, like the ones their grandma used to make?
So if you hit a TEA Party rally, and the SWAT team gets called in by the libbies, go get some flour, sugar, and some chocolate chips.  Then grab one of those adorable, little old ladies, and let her use her talents to help spread the TEA Party's message of peaceful resistance.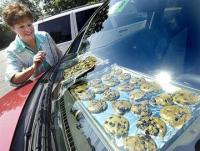 The politicians aren't going to listen to her voice, they will ignore her vote, she isn't a physical threat to anyone, but by having a warm cookie with a cop, maybe Grandma can strike the most powerful blow of all?
The blow of "Great TEA Party PR".
My next great idea: TEA Party bake sales.  What an awesome campaign fundraiser, eh?
Latest posts by Mike McGowan (Posts)
Tweet
Print This Post