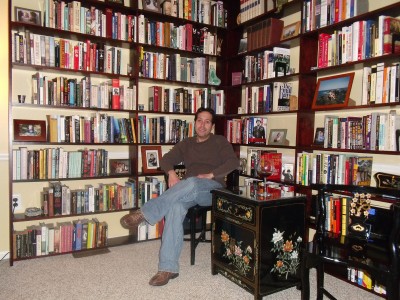 Scott Stein is founder and editor of When Falls the Coliseum.
His second novel Mean Martin Manning (2007) was called "a gem of a book" by the Philadelphia City Paper and was a 2007 summer book pick in Liberty magazine, which said it was one of the "few good hardcore libertarian novels" and that "its images, ideas, settings, and characters will linger in your memory far beyond this summer." The American Spectator called it a "breezily subversive, funny narrative." In 2007, Reason magazine interviewed Stein about Mean Martin Manning.
The Philadelphia Inquirer said that Stein's first novel Lost (2000) was "wonderfully comic" and "a page-turner" and BookSense.com made it a daily pick, calling it "hilarious and winning." Stein's short fiction and satire have appeared in such publications as The Oxford University Press Humor Reader, National Review, Liberty, The G.W. Review, and Art Times. His  essays and book reviews have been published in the Philadelphia Inquirer, Liberty, PopMatters.com, and other places.
He is teaching professor of English at Drexel University in Philadelphia, where he teaches Writing Humor and Comedy, Writing Fiction, First-Year Writing, Strange Fiction, and Superheroes in America. He has also taught Writing Humor and Comedy at the University of Pennsylvania.
Stein received his MFA in fiction writing and BA in English from the University of Miami and his MA in liberal studies from New York University. A native New Yorker, he now lives in the Pennsylvania suburbs with his family.
Mean Martin Manning, a novel
See recent posts by this contributor