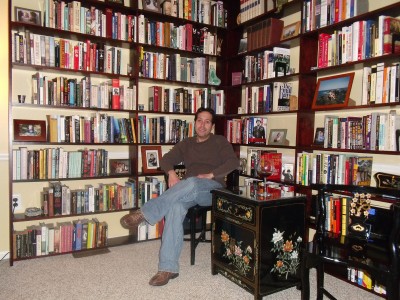 Scott Stein is founder and editor of When Falls the Coliseum. At the turn of the last century, New York magazine, in its review of the first incarnation of When Falls the Coliseum, said, "no matter what your personal politics, WFtheColiseum will spark a thought or two … hip, sardonic … quirky." He posts humor, observations, and one-liners at steinlines.com.
His second novel Mean Martin Manning (2007) was called "a gem of a book" by the Philadelphia City Paper and was a 2007 summer book pick in Liberty magazine, which said it was one of the "few good hardcore libertarian novels" and that "its images, ideas, settings, and characters will linger in your memory far beyond this summer." The American Spectator called it a "breezily subversive, funny narrative." In 2007, Reason magazine and the Bibliothecary blog interviewed Stein about Mean Martin Manning.
The Philadelphia Inquirer said that Stein's first novel Lost (2000) was "wonderfully comic" and "a page-turner" and BookSense.com made it a daily pick, calling it "hilarious and winning." Stein's short fiction and satire have appeared in such publications as National Review, Liberty, The G.W. Review, and Art Times. His  essays and book reviews have been published in the Philadelphia Inquirer, Liberty, PopMatters.com, and other places.
He is teaching professor of English at Drexel University in Philadelphia. Drexel University Off the Record (the unauthorized guide for prospective students) named "Scott Stein's writing humor and comedy class" one of the ten best things about Drexel (he got beaten out by eight apparently even better things about Drexel, including such important educational features as "cheap basketball tickets" and "great local drink specials," but he's not bitter). He also teaches writing fiction, creative writing, and freshman writing courses and is co-director of the Drexel Publishing Group. And he teaches "Strange Fiction" and "Superheroes in America" for Drexel's Honors College
He developed and taught two critical writing courses, "The Individual, Society and Freedom" and "What's So Funny," at the University of Pennsylvania. The former focused on persuasive writing with individual rights as the starting point and the latter analyzed humorous writing.
Stein received his MFA in fiction writing and BA in English from the University of Miami and his MA in liberal studies from New York University. He was raised in Bayside, Queens, has lived on Manhattan's upper and lower east side, and now lives outside of Philadelphia with his family.
Mean Martin Manning, a novel
See recent posts by this contributor