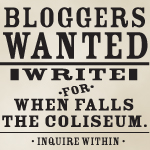 When Falls the Coliseum only publishes pieces by our contributors. If you would like to become a contributor to When Falls the Coliseum, you should do the following:
1. Tour the site — read our Welcome page and FAQ and other links on the top navigation bar and as many posts as you can, so you'll know what we publish.
2. Write a bio that matches the style and length of those appearing on the Contributors page. This will not only tell us about your background but will also demonstrate your ability to write an engaging paragraph or two.
3. Send your bio, not as an attachment but pasted into the body of an e-mail, to the following address (it is not a link, to cut down on spam — type it in manually):
submissions
the symbol for "at"
whenfallsthecoliseum.com
4. Beneath the bio, provide links to up to four online essays or blog posts that you have written. (If you don't have any, that does not rule you out as a contributor, but it is easier for us to say yes if we can read your work. Your writing in blog comment sections might also be used as samples. Or make up a couple of samples and send them along.)
5. The subject header of the e-mail message should read: submission to WFTC
Our contributors are invited to post as frequently as they like. We expect that they will post at least once per month and would prefer them to post more often (twice a month, every week, a few times per week, or even every day) about any of the topics covered by our categories. We welcome humor, satire, commentary, argument, reviews, and more and are open to brief 1-3 paragraph blog posts as well as mini-essays and longer, more developed articles. Posts can also be a funny couple of lines that set up an image or video, so if you have a knack for that, we'd like to hear from you. Complete guidelines and posting instructions will be provided to accepted contributors.
Note that contributors are not paid (this has, so far, not been a profit-making endeavor). We provide a forum and an audience and links to contributors' books and sites.
We look forward to receiving your submission and will respond if we are interested.