I was born in New York City. Therefore, I love pizza. One of my favorite childhood memories is walking down to the pizzeria on 76th street with my dad. It was usually a Saturday morning around 11. While the rest of the city was having bagels, we were ready for pizza.
Prior to last Sunday night, my husband and I would satisfy our pizza cravings with Arturo's (on Houston) or Grimaldi's (in Dumbo). I thought I was happy. But our friends Lisa and Eric (and baby Hudson) have been raving about Lucali for a while now and finally the stars aligned and we joined them for dinner.
Lucali is located in Carroll Gardens, Brooklyn. The area is named after Charles Carroll, a Revolutionary War hero and the only Catholic signer of the Declaration of Independence. The neighborhood was first settled by Irish-Americans, then by Italian-Americans, many of whom remain today. However, the gentrification of the area (and much of downtown Brooklyn) beginning in the 1970s forced out many working class Italian families, making room for upwardly mobile young professionals, baby carriages, and upscale restaurants. Few places remain where the old and new residents co-mingle, but Lucali is an exception. Over-indulgent Italian grandparents sit next to newlyweds Shawn Carter and Beyonce Knowles, while pizzaiolos roll out dough with an empty wine bottle in the open kitchen.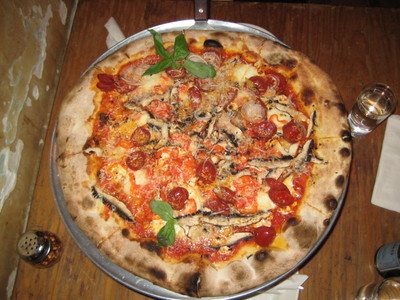 Lucali's pizza is so good that any description falls short, but here goes: [Read more →]