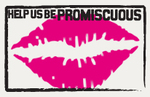 Admit it. You like us. You really, really like us. We understand. We're very attractive.
The truth is, we like you, too. Really. We like your clothes, the cut of your jib, even the way you smell. Most of the time. Clearly, we were made for each other.
But we'd also like to see other people. Now, now, don't be jealous. There's plenty of us to go around. We just want to play the field, sow some wild oats. We'll always be there for you. Really.
So please tell your friends to come over to our place. We'll show them a good time. Yes, you can watch. Oh my! We had no idea you were so kinky!
Help us be promiscuous. Here's how:
E-mail your friends with a link to http://whenfallsthecoliseum.com
Subscribe to our e-mail announcements and tell your friends to subscribe
Blog about our posts
Follow us on Twitter and pass our tweets on to your friends
"Like" our posts on Facebook
Use the "Share This" feature at the conclusion of each of our posts
Post a graphic banner on your site, somewhere people will actually see it. You can use the html code here to have the below banner appear on your site:
<p style="text-align: center;"><a href="http://whenfallsthecoliseum.com"><img src="http://whenfallsthecoliseum.com/wp-content/wftc_animated_banner.gif" alt="When Falls the Coliseum" /></a></p>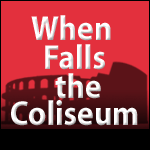 Be a fan of our Facebook page and invite your friends to join and link to http://whenfallsthecoliseum.com from your Facebook and MySpace pages
Tell writers and bloggers about us, send them links to your favorite pieces so they'll link to our posts, and, if they're really good, tell them to check out our submissions page
Help make our site a place readers want to visit and revisit by commenting on posts