Posted on
February 25th, 2017
by Scott Warnock
Julianne and I took a trip to Bogotá, Colombia last week. I attended WRAB IV, an international writing research conference, and we stayed at the remarkable Bogotá Bed and Breakfast while being introduced to the wonderful city of Bogotá. In planning this journey, there was a little catch: What we do with our three kids – more specifically, what to do with three teenagers, since, when we returned, all three would be teenagers?
For whatever reason — temporary insanity? — my sister-in-law decided to step in and help us. She and my 9th-grade niece moved in for the week.
And the kids didn't miss us a lick.
When we made Facetime calls in the evening, often we struggled to get someone on the line. Eventually, someone would slide onto the screen, appearing exasperated and harried in doing their childrenly duty, and they would be soon distracted by something off camera. We would hear laughter and revelry. They would wander away. Some new face would then appear.
Sure, there were hugs when we returned very late Sunday evening. Sure, they seemed kind of happy on Monday that Mom and Dad were back, especially because it was a school holiday. But after some chat, they soon returned to own their cozy nooks in the Warnock burrow, back to their routines.
Things were normal when we were gone. In fact, they were supranormal. Monday morning, after I had awakened all groggy-eyed, I was greeted with the jarring sight of my middle son emptying the dishwasher, without having been told. "What mad night terror is this?" I wondered. But he just waved good morning, as if this was business as usual.
My daughter, on a Friday while we were gone, had headed out on one of her now-frequent big nights. Upon hearing about it, we objected, but I said, "What can we do? We can't parent her from South America." Out she went, but she was up at 7:00 AM the next morning and went to an accepted student visit to Drexel (she's accepted and has committed as a Dragon).
My little son turned into a teenager while we were gone. He managed to get most of his homework done — certainly at least as much as he does when we're home — and he even consoled my older niece through a break-up.
They seemed to eat together every night. They baked. They cleaned up after themselves.
As is my wont, I had written all these instructions for my sister-in-law, which she covered with mocking graffiti. She even re-dubbed the kids in ways that were, well, pretty accurate.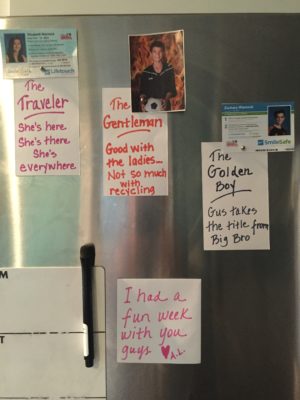 We checked the grade portal and all was well there (oh, with my kids, there's always one grade that makes my hair turn a little grayer).
In our absences, everyone survived. They even thrived.
Even the dog seemed pretty much fine.
Maybe we'll hear about some exploits years in the future, but in the capable hands of my sister-in-law, they did what they needed to do without Mom and Dad muddling around.
We gotta face it: They don't need us anymore. They're off on their way in the great world.
Sentimentality could intrude here, but isn't that what we've been trying to do? Isn't that how it should be?
Happy (belated) birthday to Zachary Larue!
Scott Warnock is a writer and teacher who lives in South Jersey. He is a professor of English at Drexel University, where he directs the University Writing Program. Father of three and husband of one, Scott is on two local school boards and coaches all kinds of youth sports.
Latest posts by Scott Warnock (Posts)
Tweet
Print This Post