Posted on
May 18th, 2013
by Christopher Guerin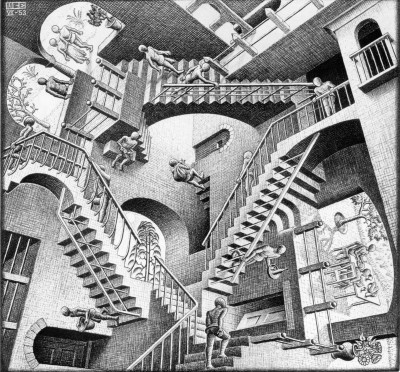 #78
I once stood staring down a long staircase,
Then stood up having fallen all the way down.
The time between appeared to have erased
Both itself and the memory of what I'd done.
Unhurt, staring up at the staircase, terrified
Of forms and forces I now understood, I cried.
There are many steps, floors, and bannisters
In this ant people world, but only one sun.
Yet all depends on the attitude of the stairs,
Which share the simultaneity of the boson.
Every direction ends in a shift of perspective,
Hinting that the fifth dimension may be us,
Each riser a mere extension of consciousness,
Until, falling down the stairs, we no longer live.
Note: This is one of more than 115 poems after paintings or images, which can be viewed at the blog, Zealotry of Guerin.
Christopher Guerin is the author of two books each of poetry and short fiction, a novel, and more than a dozen children's books. If he hadn't spent 26 years as an arts administrator, including 20 years as President of the Fort Wayne Philharmonic, perhaps he'd have worked a little harder getting them published. His consolation resides in his fiction and poems having been published in numerous small magazines, including Rosebud, AURA, Williams and Mary Review, Midwest Quarterly, Wittenberg Review, RE: Artes Liberales, DEROS, Wind, and Wind less Orchard. His blog, Zealotry of Guerin, features his fiction and poetry, including his sonnet sequence of poems after paintings, "Brushwork." He is the V.P. of Corporate Communications at Sweetwater Sound, Inc., the national music instrument retailer.
Latest posts by Christopher Guerin (Posts)
Tweet
Print This Post