I have been declared Emperor of the World. Let us not waste time explaining why or how; let's all simply accept the fact that we are better off, as a result; hence, my next decree:
Emperor's Decree No. 2012, Category 1: Hurricane Sandy is all but come and gone and she did great damage to the Emperor's American East Coast. The Emperor's Palace has been situated in this area for many years and He has seen a few storms. This time, things went much better. The Imperial Electric Company did its job well. Sure, some subjects are without power, but, overall, it seems the IEC was much better prepared. They have learned how better to deal with storms like this. Local governments were much better prepared, as well. Will anyone hear about it? Well, they will now: You are commanded to thank authorities and organizations for anything that went right (systematically-speaking) during this storm. (Of course, it goes without saying you should do the same for our safety and health workers.)
Why? Because the Emperor is used to being in a position of authority (both in his Imperial and his "real" life) and he knows that no one ever thanks those in authority for things that improve or that go well. But they sure as hell are ready to tell us when things go wrong, whether those problems are our fault or not.
The Punishment: Those who neglect to send thank-you emails will have their power turned off during the next drizzle.
Epilogue: The Emperor leaves you with this pictorial tale of kindness in the face of tragedy: This Great White Shark is ignoring his natural instincts in order to save a poor seal from drowning in the inland flooding on the Jersey coast by spitting him out toward the open sea. Inspiring. (Hat Tip: Marni Vaccaro and Joe Cairns.)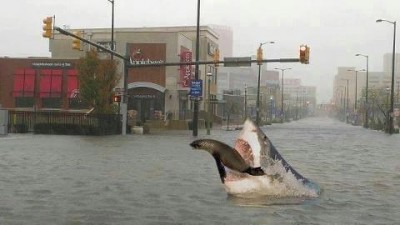 Now, go forth and obey.
The Emperor will grace the world with a new post each Tuesday morning.