Posted on
April 13th, 2012
by Jeff McDonald
From a post and link on a friend's Facebook page, I have just now learned of the passing of one of the more remarkable individuals I have ever met … one who was once without hope, but went on to find hope and share it with countless others … one who described himself as a 'nobody,' yet was anything but.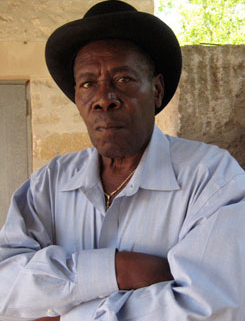 Denver Moore, a most remarkable 'nobody,' has entered the church triumphant. According to this report from worldmag.com's Mickey McLean, "on Saturday, March 31, after several years of ill health, Moore, 75, died, or, as Ron Hall shared in an email, 'The gates of heaven swung open … and Denver Moore went walkin' in!' A memorial service for Moore was held [Thursday] at McKinney Memorial Bible Church in Fort Worth."
So many of us came to know Moore and Hall – and a third remarkable individual, Hall's wife, Deborah – through their book "Same Kind of Different as Me," and it's follow-up, "What Difference Do it Make?" It's hard to imagine two such men ever meeting each other, let alone becoming such friends … so maybe it should be no surprise that the meeting and the friendship led to such a wonderful and inspiring story, and mission.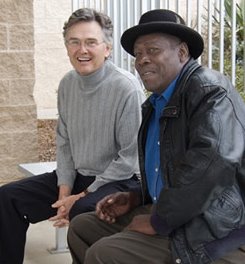 That mission included many, MANY appearances on radio and television, in the newspapers and magazines, and on the road, speaking to crowds of every shape and size. It was during one such appearance that I got to meet them. It was four years ago, and Moore and Hall were in Midland, speaking at an evening praise service organized by First Presbyterian Church and True-Lite Christian Fellowship.
To say that the main sanctuary at First Prez was packed, would be putting it mildly … every seat was filled, people were standing along the walls, seated on the floor in front of the first row of pews, some had even hopped up onto the sills at the foot of our stained-glass windows … the house WAS packed, and it ROCKED … due in no small part to True-Lite's music ministry, which set the perfect tone for the evening.
Hall was the first of the two to speak, and then it was Moore's turn. His testimony was delivered in a manner unfamiliar to some … at times, he spoke, and told a story …. then he'd quote Scripture … other times he'd break into song. Our friends from True-Lite were in the groove from the start … but it was incredible to watch how Moore brought some of my fellow Presbyterians (I've heard us called the 'Frozen Chosen') to their feet, then their hands went up, and then they started shouting in response to the testimony.
WHAT A GREAT EVENING!
I've already spoken to a couple of others who were there at First Prez that night, and they the same response as mine … a mix of sadness and happiness … "Well," said one, "he's with Miss Debbie now."
"Tell 'em I'm a nobody that is tryin' to tell everybody about somebody that can save anybody," Moore once told Ron Hall.
"That 'Somebody' was Jesus," Hall wrote shortly after Moore's passing, "and Denver woke up in His arms on Saturday. His famous quote and the final words in his book are 'We are all homeless workin' our way home.' Welcome home friend; you were a good and faithful servant."
… and a most remarkable 'nobody.'
There's a saying around here, something like, "I wasn't born in Texas, but I got here as fast as I could!" That's me. I'm a 'dang Yankee from back-east' who settled in the Lone Star State after some extended stays in the eastern U.S., and New Mexico. I worked as an archaeologist for a few years before dusting off my second major in English, and embarking on a 25-year career in journalism. Since then, I've embraced the dark side of the force, and now work in PR for a community college in Midland, Texas.
Latest posts by Jeff McDonald (Posts)
Tweet
Print This Post