When I heard the Jersey shore was destroyed, I initially blamed Snooki. Then I found out that a Giant-Franken-Super-Mega-Storm of the Millennium known as Hurricane Sandy had hit the East Coast, which would explain why most of my county doesn't have power and schools have been closed all week. It seems that Snooki isn't to blame for the people who keep coming to my house to eat hot meals and charge their phones. Still, if you're wondering what the cast of Jersey Shore thinks about the situation at the Jersey shore, well, first, shame on you. But I won't keep you in suspense any longer.
They think it's bad.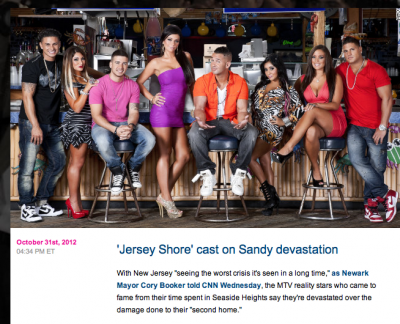 Screenshot from CNN.com on November 1, 2012.
(See what I did there with "situation"? Very clever. But  not as clever as the writers at CNN, who tell us that the cast is "devastated" at what in the headline is described as "devastation." The cast is devastated over the devastation.)