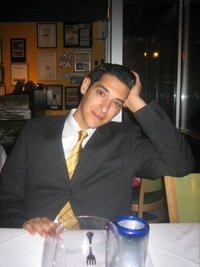 Neil Verma is a cultural historian and teacher in the humanities. He grew up near the edge of Lake Ontario, and he did his B.A. in English at McGill University. Since then, he's sold paper made from the bark of mulberry bushes, raised money for children's charities, produced defunct radio shows, printed pool chemical labels, and taught grant-writing to research scientists. Then, as you might imagine, he marched directly to graduate school.
Nowadays Neil teaches at the University of Chicago, where he just finished his Ph.D. In an amusing attempt to earn the respect of his peers, he's writing a book about aesthetics in classic American radio plays. Four years into the manuscript, Neil knows exactly what evil lurks in the hearts of men.
Not long ago Neil put on a smart new tie and married a charming young journalist from Detroit. They live in Chicago with a toothless black cat that Neil would like to throw into Lake Michigan.
Visit neilverma.net to read ducksanddrakes, Neil's blog about acrimony, dispute, and other glimmers of argumentative spunk.
See all posts by this contributor