Posted on
November 6th, 2017
by Jeff McDonald
There were aspects of Alma Alexander's "Wings of Fire" that I enjoyed, while there were others I did not. Unfortunately, the latter outweighed the former.
To its credit, the book offers an international and flavorful smorgasbord of mythology and fantasy, faith and ritual as its characters take us along on a story of adventure and discovery through space and time. Maori spirits? Got 'em. Irish selkies and Russian monks? Those, too. But wait … you also get rusalkas, hunters and healers, fallen angels and more.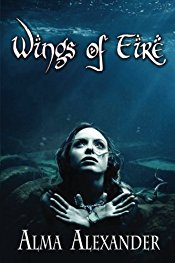 At the center of all this is Sabrina … she's at the center of my problem with the book, as well. There are a variety of words – mostly positive – I might use to describe the story's supporting characters … the first word that comes mind for Sabrina is 'meh.'
Over the course of the story, we learn more and more about what transpired over the years to bring Sabrina to the right place at the right time, to place her on the shores of Lake Manapouri on the eve of events that might open heaven's gate, and rain destruction upon a sizable portion of the world.
I only wish we could have learned something else, something more about Sabrina, herself … giving us at least some sense, some hope that all that time and all that energy – and all those lives –  were worth the the effort.
Heaven help us!
There may be a call for a Healer in the course of this story, and that's where Sabrina will be needed. There's also the suggestion she'll be needed in the world beyond this story's end. I hope she's up to it … that the important character developments I missed in the course of reading this book, will surface in whatever story may follow.
__________
NOTE: I received a free e-copy of this work through LibraryThing in exchange for a review.
There's a saying around here, something like, "I wasn't born in Texas, but I got here as fast as I could!" That's me. I'm a 'dang Yankee from back-east' who settled in the Lone Star State after some extended stays in the eastern U.S., and New Mexico. I worked as an archaeologist for a few years before dusting off my second major in English, and embarking on a 25-year career in journalism. Since then, I've embraced the dark side of the force, and now work in PR for a community college in Midland, Texas.
Latest posts by Jeff McDonald (Posts)
Tweet
Print This Post