Posted on
October 9th, 2017
by Jeff McDonald
I did not realize this until recently, but I have been waiting for someone to write a series of stories around the adventures of a Jewish wizard divinely sentenced to an extended life of servitude applying his wisdom and his wit – and added abilities possible only through God's power and indulgence – to help His Adamic Brood through a bizarre array of problems … no matter how far they have strayed from His path in the course of causing those problems.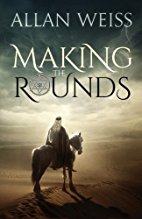 No, seriously. That's what occurred to me once I finished "Making the Rounds" by Allan Weiss, and began organizing my thoughts for this review. The book is a collection of short stories about … well, I've already told you what they're about. I wasn't very far into the first story before I was drawn into it, and pretty certain I would be reading the book cover-to-cover … and enjoying myself in the process.
Wizard-and-companion stories are nothing new. But there is something different, something fresh about Eliezer Ben-Avraham and his equine companion, Melech. There is also something different, something fresh from the old – even ancient – traditions of Jewish mysticism and magic, and the stories inspired by those traditions. "Making the Rounds" may have sprouted from the same roots as Rabbi Judah Loew ben Bezalel and the Golem, but it's a LOT more fun.
There are moments that recall to me what I learned as a student of anthropology and literature. But I am also reminded of my youth in northeastern American cities, and my contact with the culture, the vocabulary of the Jewish community, including the Hassidic. Then there's the humor, recalling the great tradition of stand-up comedians who once plied their trade in the Catskills. Remember those guys who gather at the Carnegie Diner in "Broadway Danny Rose" to share stories and put-downs? Some of that.
There's a science fiction angle, too, as Eliezer Ben-Avraham and Melech travel through a blasted vision of our future, administering their unique skills to problems that plague the rag-tag remnants of humanity … and other creatures, as well. And in the course of their travels, there is time for introspection as Eliezer considers his divine sentence, and how long he will have to endure that sentence.
I recommend "Making the Rounds" to readers of various genre – not just fantasy and science fiction. I won't give away what awaits readers at the end of the book's journey. I will say that, in the course of the journey – as you are making the rounds with Eliezer and Melech – there will be amusement and adventure, magic and mystery, wonders and witticisms ..
… and maybe even enlightenment.
__________
NOTE: I received a free e-copy of this work through LibraryThing in exchange for a review.
There's a saying around here, something like, "I wasn't born in Texas, but I got here as fast as I could!" That's me. I'm a 'dang Yankee from back-east' who settled in the Lone Star State after some extended stays in the eastern U.S., and New Mexico. I worked as an archaeologist for a few years before dusting off my second major in English, and embarking on a 25-year career in journalism. Since then, I've embraced the dark side of the force, and now work in PR for a community college in Midland, Texas.
Latest posts by Jeff McDonald (Posts)
Tweet
Print This Post