Posted on
September 25th, 2017
by Jeff McDonald
My experience with LibraryThing has added a LOT of different works to my e-bookshelf, and that's led to a diverse array of reading experiences for me, and reviews for the books.
Some were great, others not-so-great-but-alright … there were titles that registered somewhere in the middle of the 'meh' meter … and one that left me scrambling to find words that adequately expressed how odorous I found it.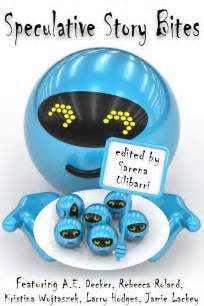 I would place "Speculative Story Bites" at or near the top of the 'great' category. I found it to be filled with good reads that were fun and well-crafted … AND generated plenty of entertaining (and healthy) speculation on my part.
This science- and fantasy-fiction anthology was assembled by Sarena Ulibarri, editor-in-chief of World Weaver Press as well as a published writer. Ulibarri has brought together an eclectic gathering of writing talents for this book, with the result being a generally strong collection of short stories covering a broad range of subjects.
A chocolate shop that treats more than your sweet tooth? Got it … A kitty-cat stepping-up to battle inter-dimensional invaders? Got it … A new spin on classic Greek mythology? Yup, got it … Okay, how about flower fairies marching/flitting to war against a deadly spirit? Got that, too … Well, then, an intergalactic house of ill-repute? Yup, it's there and open for business.
And these are just a few of the 'bites' offered in this anthology.
When you think about it, that might be a secret to a successful fiction anthology. In television, two of the most successful science- and fantasy-fiction series (for me, at least) are America's "The Twilight Zone" and Britain's "Doctor Who." Both feature short stories (stand-alone or part of a story arc), different writers, different directors and different casts (or a selection of recurring characters and guest stars). And both are/were well done, with a single producer/creator overseeing the process.
(More recently, I would add "Dimension 404" and "Black Mirror" to that list.)
Getting back to the book! Whatever you think of my 'secret of success' speculation, I strongly recommend you sample and savor "Speculative Story Bites."
Bon apetit!
__________
NOTE: I received a free e-copy of this work through LibraryThing in exchange for a review.
There's a saying around here, something like, "I wasn't born in Texas, but I got here as fast as I could!" That's me. I'm a 'dang Yankee from back-east' who settled in the Lone Star State after some extended stays in the eastern U.S., and New Mexico. I worked as an archaeologist for a few years before dusting off my second major in English, and embarking on a 25-year career in journalism. Since then, I've embraced the dark side of the force, and now work in PR for a community college in Midland, Texas.
Latest posts by Jeff McDonald (Posts)
Tweet
Print This Post