Posted on
December 31st, 2013
by Jeff McDonald
A little over a week ago, I was sitting at the bar on Deck 5 of the Carnival Valor, listening to a story about what had caused that ship to be late in its arrival at St. Maarten a couple of days earlier. It was an interesting piece of information, and I thought it would certainly prove newsworthy … unfortunately my nose-for-news is no match for the prominent proboscises one finds in America's major news organizations.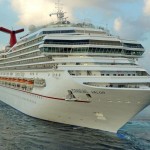 According to this report on the Wall Street Journal's website (with a PRNewswire byline), "the Carnival Valor rescued five mariners from a pleasure craft that was sinking in inclement weather. Following the rescue, the five adults were brought on board Carnival Valor and evaluated by the ship's medical staff, and provided with food and water. Two of Carnival Valor's deck officers sustained minor contusions during the rescue effort."
I cite the WSJ report because there really aren't all that many reports to cite … at least from what one might consider major news media … WSJ, and USA Today. Oh, sure, there are the reports from PRNewswire, Cruise Critic and Trip Advisor and some cruise industry newsletters … but there readership is not as broad or (at least in some respects) as far-reaching as a CNN, an NBC News or even a Fox Noise.
True, a story about something going right does not have the same interest for news producers as something that goes wrong … the February 2013 Carnival Triumph cruise, for example. Want to know more about that? No problem … just Google "Carnival cruise from Hell" and you'll find a TON of reports … including some that document that the cruise was not nearly as bad as was reported by the media and some selective sources.
If it bleeds, it leads … I first heard that forty-some years ago, during one of first forays into a newsroom as a writer/producer, and it still seems to hold true today (though there seems to be as much preference for stories that bleed the mind and the spirit as much as the body). But when you think of something like the Carnival Valor responding to a distress call on a stormy night in the high seas – honoring an old tradition of seafaring – and then saving five lives? C'mon … couldn't we have trimmed a minute from the latest Miley shenanigans, or still another detailed analysis of what Washington ISN'T doing?
More than once, people have asked me something to the effect of, 'how could you ever sail Carnival again?' Well, yes, because of stories like this. I'm glad I was on hand to hear first-hand reports, and that my family had a chance to meet the captain and bridge crew who participated in that rescue.
For what it's worth, I thought I'd share the news with you.
There's a saying around here, something like, "I wasn't born in Texas, but I got here as fast as I could!" That's me. I'm a 'dang Yankee from back-east' who settled in the Lone Star State after some extended stays in the eastern U.S., and New Mexico. I worked as an archaeologist for a few years before dusting off my second major in English, and embarking on a 25-year career in journalism. Since then, I've embraced the dark side of the force, and now work in PR for a community college in Midland, Texas.
Latest posts by Jeff McDonald (Posts)
Tweet
Print This Post