Posted on
December 17th, 2013
by Scott Warnock
Caution: The Santa-belief unblemished may find spoilers below.
The other night, while we were at dinner with a bunch of friends, my nine-year-old reportedly muttered to his 14-year-old sister, "Do you believe in Santa?" She, sharp and on her toes, said, "I do." The little guy replied, "Well I don't. But don't tell mom and dad."
So the Santa era ends for the Warnock family.
I thought it would go like that with us. With a fizzle. No big drama or confrontation, not even a wisp of dialogue. It's kind of odd, because I'm not one of those sit-com dads who can't talk to his kids about stuff. By the time they're all 15, they'll be tired of talking about sex and drugs and the risks of bad stock market investments.
Yet we don't talk Santa. My daughter and I did discuss Santa finally, but that was while raking leaves last weekend. The subject remains off limits with my 12-year-old. He says nothing about Santa. He collects his present politely and moderately, and off he goes. I think, "He's in 7th grade. He can't possibly believe, can he?" But I have no empirical evidence.
I know some parents don't do the Santa thing. I respect that. It's honest. But I always knew as a dad I would embrace Santa Claus, and few things on the parent trip for me have been as fun as sustaining Santa. Wow, has it been enjoyable! Santa has been at the center of many memories for us.
A relative once visited every Christmas Eve dressed full-out in Santa garb. One year, he came over around four, just as it was getting dark. After giving out candy canes and taking last-minute requests, he left. The kids wanted to see him off, so we had to hold them back, crowd-control style, until he could escape in his car. When we finally released them, my daughter, five at the time, rushed outside – and looked up at the sky. I see her little upturned face now as I write this. It was beautiful.
We went to Disney in December in 2007. We decided to make one final afternoon visit to the Magic Kingdom before heading to the airport. Our only regret on this trip was that we wouldn't do our annual mall pilgrimage to see Santa. I'm going to get corny (uh, I mean cornier) here, but then some Disney magic happened.
We rounded the corner on Main St. on our way out of the park, and there was the greatest Santa Claus ever – and he had just set up so there was no line. My daughter got it immediately (she always does), put on her game face and turned to her sometimes bumbling brothers: "This is the real Santa. Get ready." She didn't want this opportunity blown. My little guy was so stunned that when an elf asked him where he was from, he could only say, "Earth."
Ah, that mall trip. Santa's power helped us create our greatest Christmas card after one of those visits. The daughter, perfect, trying for the "nice" list, and my two-year-old middle guy, freaking out. We, exasperated, had finally just "nudged" him into the picture. Santa was stoic. It was on friends' fridges for years.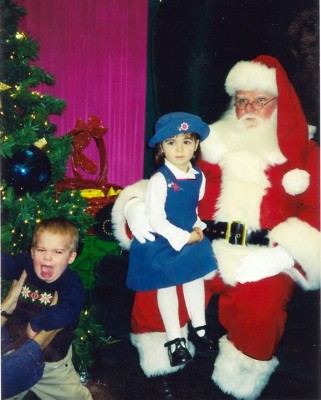 Our finest holiday card photo.
My middle guy got over his Santa fear quickly. The following year, he had a better exchange with the man. Santa asked him what he wanted. The boy replied, "A truck." Santa asked what else. He thought about it and said, "Two trucks."
Every year, I've written a Santa letter to my kids and my nieces and nephew down the street. I use a little Santa leverage, if only to help my wife and her sister manage Christmas Eve kid mayhem. You know: Go to bed tonight. Don't fight. Don't eat too much candy. Santa is watching…
But now all junior Warnocks appear done. Who knows how this will end up with my little guy, since my evidence of his non-belief is based on other kids' recounting of the conversation. He has that third child wise-beyond-his-years perspective. Will he be the one to call us out? Or will he, perhaps like his brother, collect the gifts in silence, just to be on the safe side?
Santa isn't really gone, of course. That spirit still represents the very merry things that happen in our house this time of year. I have always felt badly about those for whom the holidays are a drag, a downer. Through ups and downs of life, I've been lucky enough to love the holidays. My many parenting inadequacies I hope are made up somewhat by the excellent holiday seasons we have had in our home. I think how lucky my kids are to have been safe, warm, and happy, in PJs, all day on Christmas.
This year, we will keep the spirit, but the guy in the red suit may only be a symbol. The question of existence? Apparently solved.
I realize I am going to miss it like hell. I might even have cried a little as I wrote this.
Scott Warnock is a writer and teacher who lives in South Jersey. He is a professor of English at Drexel University, where he directs the University Writing Program. Father of three and husband of one, Scott is on two local school boards and coaches all kinds of youth sports.
Latest posts by Scott Warnock (Posts)
Tweet
Print This Post