Posted on
July 27th, 2013
by Christopher Guerin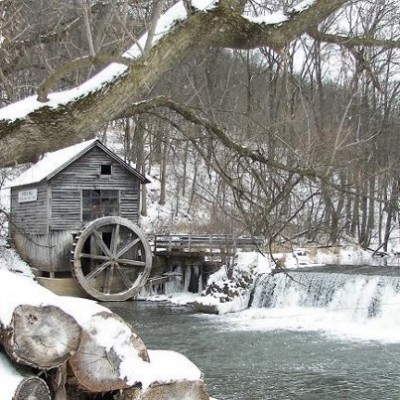 #111
They moved the river to build the water wheel,
Then built a wooden race to divert the current.
Sluice opened, stones ground raw grain into meal
For a hundred years, until the old mill was spent.
River turning wheel turning gears turning stone,
A devolution of mechanics all to crush a seed.
The sun burns for years to dry an animal's bones,
And countless gallons of water won't break a reed.
I'm reluctant to approach the mill too closely
(Its ancient timbers are desiccated, ghostly),
Hear its stoppage rasped by the river's relentless
Passage over the shattered race's detritus.
Away from the wreck, a little waterfall churns
Spray, wrack, and spume, and, like time, it burns.
Note: This is one of more than 125 poems after paintings or images, which can be viewed at the blog, Zealotry of Guerin.
Christopher Guerin is the author of two books each of poetry and short fiction, a novel, and more than a dozen children's books. If he hadn't spent 26 years as an arts administrator, including 20 years as President of the Fort Wayne Philharmonic, perhaps he'd have worked a little harder getting them published. His consolation resides in his fiction and poems having been published in numerous small magazines, including Rosebud, AURA, Williams and Mary Review, Midwest Quarterly, Wittenberg Review, RE: Artes Liberales, DEROS, Wind, and Wind less Orchard. His blog, Zealotry of Guerin, features his fiction and poetry, including his sonnet sequence of poems after paintings, "Brushwork." He is the V.P. of Corporate Communications at Sweetwater Sound, Inc., the national music instrument retailer.
Latest posts by Christopher Guerin (Posts)
Tweet
Print This Post