Posted on
July 13th, 2013
by Christopher Guerin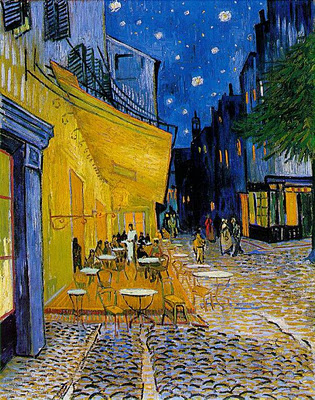 #48
For Ruth
Is there just one universe?
There the stars and here the cafe.
Hidden lights illuminate the tables.
The various darknesses immerse
Men and stars in dissolving clay.
Are both god and science fables?
The universes are infinite,
They say, and time does not exist.
But here we are and there the stars.
The air is full of perfume and wit,
And a wine too ancient to resist.
All else is beyond, late and far.
Let's nibble galaxies and swallow suns.
I'll count my hours with you by ones.
Note: This is one of more than 120 poems after paintings or images, which can be viewed at the blog, Zealotry of Guerin.
Christopher Guerin is the author of two books each of poetry and short fiction, a novel, and more than a dozen children's books. If he hadn't spent 26 years as an arts administrator, including 20 years as President of the Fort Wayne Philharmonic, perhaps he'd have worked a little harder getting them published. His consolation resides in his fiction and poems having been published in numerous small magazines, including Rosebud, AURA, Williams and Mary Review, Midwest Quarterly, Wittenberg Review, RE: Artes Liberales, DEROS, Wind, and Wind less Orchard. His blog, Zealotry of Guerin, features his fiction and poetry, including his sonnet sequence of poems after paintings, "Brushwork." He is the V.P. of Corporate Communications at Sweetwater Sound, Inc., the national music instrument retailer.
Latest posts by Christopher Guerin (Posts)
Tweet
Print This Post