Posted on
June 29th, 2013
by Christopher Guerin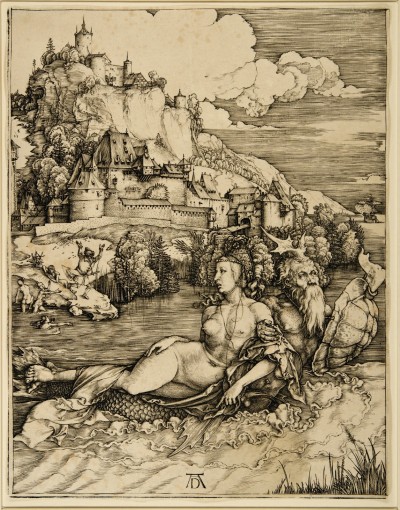 #113
Each moon the damned gray sea monster abducts our wives,
Then releases them to us as speechless as fish.
Not one has revealed what happens beneath the waves;
So we wonder, do they endure terrors or bliss?
He has antlers and a merman's scales, and a shield
Of tortuga shell, and eyes that say, "Ye shall yield."
Only Annalee, my perfect wife, fought the beast,
Calling to me as I stood helpless on the beach.
After she slapped his bearded face and yanked his mane,
He ripped off her dress and drowned her in shame.
Of all the women taken, only she has not returned,
Those taken since scoff at the possibility
(Each petulant and stiff, like a woman scorned)
That Annalee's alive, with him, beneath the sea.
Note: This is one of more than 120 poems after paintings or images, which can be viewed at the blog, Zealotry of Guerin.
Christopher Guerin is the author of two books each of poetry and short fiction, a novel, and more than a dozen children's books. If he hadn't spent 26 years as an arts administrator, including 20 years as President of the Fort Wayne Philharmonic, perhaps he'd have worked a little harder getting them published. His consolation resides in his fiction and poems having been published in numerous small magazines, including Rosebud, AURA, Williams and Mary Review, Midwest Quarterly, Wittenberg Review, RE: Artes Liberales, DEROS, Wind, and Wind less Orchard. His blog, Zealotry of Guerin, features his fiction and poetry, including his sonnet sequence of poems after paintings, "Brushwork." He is the V.P. of Corporate Communications at Sweetwater Sound, Inc., the national music instrument retailer.
Latest posts by Christopher Guerin (Posts)
Tweet
Print This Post