Posted on
June 8th, 2013
by Christopher Guerin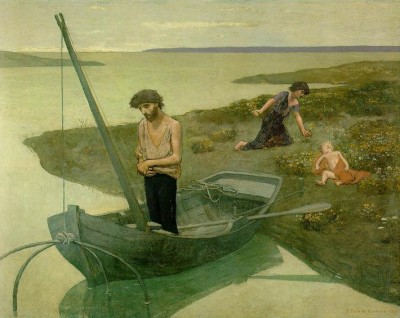 #57
The man's greatest weapon is patience.
He can stand and wait, perfectly still,
As long as the elements don't interfere.
He doesn't believe in anything but chance.
Though he cannot eat what he cannot kill,
An empty net is not his deepest fear.
The boy is still healthy, but he worries Aimee
Has become pale and her milk is gone.
She gathers useless flowers and sings,
"They are not for me, but for my family."
He thinks the same of the sea and sun.
At times, when the bay is full of nothing,
Exhausted by his empty regrets,
He dreams himself diving into the net.
Note: This is one of more than 120 poems after paintings or images, which can be viewed at the blog, Zealotry of Guerin.
Christopher Guerin is the author of two books each of poetry and short fiction, a novel, and more than a dozen children's books. If he hadn't spent 26 years as an arts administrator, including 20 years as President of the Fort Wayne Philharmonic, perhaps he'd have worked a little harder getting them published. His consolation resides in his fiction and poems having been published in numerous small magazines, including Rosebud, AURA, Williams and Mary Review, Midwest Quarterly, Wittenberg Review, RE: Artes Liberales, DEROS, Wind, and Wind less Orchard. His blog, Zealotry of Guerin, features his fiction and poetry, including his sonnet sequence of poems after paintings, "Brushwork." He is the V.P. of Corporate Communications at Sweetwater Sound, Inc., the national music instrument retailer.
Latest posts by Christopher Guerin (Posts)
Tweet
Print This Post