Posted on
June 1st, 2013
by Christopher Guerin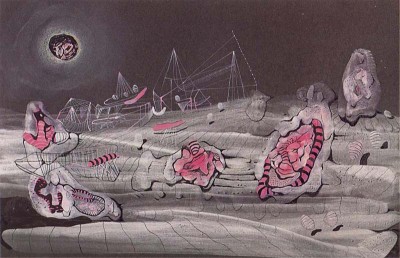 #69
This desert's a blanket of earth's exhaustion,
Where all that remains of life is on the surface.
Each creature, like the sun, is a dying furnace,
Slowly fusing bone, sinew, muscle, intestine.
The old structures melt away into essence,
Bypassing decay, desiccation, and putrescence,
Stopping short of the irreducibility of sand.
New life emerges, sparked by a decaying sun,
Ectoplasmic shapes a god wouldn't understand,
Creatures without breath or senses or reason.
If all worlds are possible, billions like this exist,
Simply because you or I can always imagine it.
We think, therefore, perhaps, we should resist
Creating a world we would never wish to visit.
Note: This is one of more than 115 poems after paintings or images, which can be viewed at the blog, Zealotry of Guerin.
Christopher Guerin is the author of two books each of poetry and short fiction, a novel, and more than a dozen children's books. If he hadn't spent 26 years as an arts administrator, including 20 years as President of the Fort Wayne Philharmonic, perhaps he'd have worked a little harder getting them published. His consolation resides in his fiction and poems having been published in numerous small magazines, including Rosebud, AURA, Williams and Mary Review, Midwest Quarterly, Wittenberg Review, RE: Artes Liberales, DEROS, Wind, and Wind less Orchard. His blog, Zealotry of Guerin, features his fiction and poetry, including his sonnet sequence of poems after paintings, "Brushwork." He is the V.P. of Corporate Communications at Sweetwater Sound, Inc., the national music instrument retailer.
Latest posts by Christopher Guerin (Posts)
Tweet
Print This Post