Posted on
May 11th, 2013
by Christopher Guerin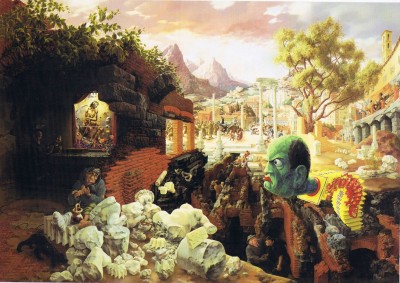 #68
The jack-in-the-box dictator dominates,
Green scowl squeezing envy into hate.
Sinners pray to Jesus in the store window.
Draped in gold chains, clutching His scepter,
He laughs at their ruler's show of temper.
Henchmen wait for new orders from below.
Eternal cities outlive their architecture.
Columns collapse, statuary crumbles,
"Return my youth," a lame crone mumbles.
Speeches, even sermons, become lectures,
Endless repetitions, what everybody knows.
When the militia gathers, the catacombs
Fill with refuges and would-be deserters.
No murderers here, we are only torturers.
Note: This is one of more than 115 poems after paintings or images, which can be viewed at the blog, Zealotry of Guerin.
Christopher Guerin is the author of two books each of poetry and short fiction, a novel, and more than a dozen children's books. If he hadn't spent 26 years as an arts administrator, including 20 years as President of the Fort Wayne Philharmonic, perhaps he'd have worked a little harder getting them published. His consolation resides in his fiction and poems having been published in numerous small magazines, including Rosebud, AURA, Williams and Mary Review, Midwest Quarterly, Wittenberg Review, RE: Artes Liberales, DEROS, Wind, and Wind less Orchard. His blog, Zealotry of Guerin, features his fiction and poetry, including his sonnet sequence of poems after paintings, "Brushwork." He is the V.P. of Corporate Communications at Sweetwater Sound, Inc., the national music instrument retailer.
Latest posts by Christopher Guerin (Posts)
Tweet
Print This Post