Posted on
May 4th, 2013
by Christopher Guerin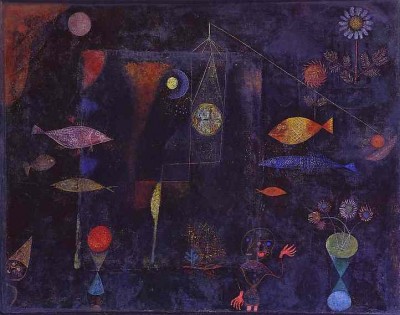 #81
Is the sky to fish what the celestial is to men?
Do their eyes, being lidless, see more clearly
The dimming when moon eclipses the sun?
Do they wish as they die to swim above the sea?
Bonefish, flounder, barracuda, and drum,
Chaunt spells and curses from within a cauldron,
To tauten the cord and raise the draped muslin
Unveiling the face of the ancient clock tower,
While a three-eyed girl grabs at potted flowers,
And in a corner a boy in a dunce cap cowers.
The gods send down chum and baited hooks,
Dangling constellations and spiral galaxies,
Daring us to hope, to aspire, daring us to look
Past transparent and unfathomable seas.
Note: This is one of more than 115 poems after paintings or images, which can be viewed at the blog, Zealotry of Guerin.
Christopher Guerin is the author of two books each of poetry and short fiction, a novel, and more than a dozen children's books. If he hadn't spent 26 years as an arts administrator, including 20 years as President of the Fort Wayne Philharmonic, perhaps he'd have worked a little harder getting them published. His consolation resides in his fiction and poems having been published in numerous small magazines, including Rosebud, AURA, Williams and Mary Review, Midwest Quarterly, Wittenberg Review, RE: Artes Liberales, DEROS, Wind, and Wind less Orchard. His blog, Zealotry of Guerin, features his fiction and poetry, including his sonnet sequence of poems after paintings, "Brushwork." He is the V.P. of Corporate Communications at Sweetwater Sound, Inc., the national music instrument retailer.
Latest posts by Christopher Guerin (Posts)
Tweet
Print This Post