Posted on
April 27th, 2013
by Christopher Guerin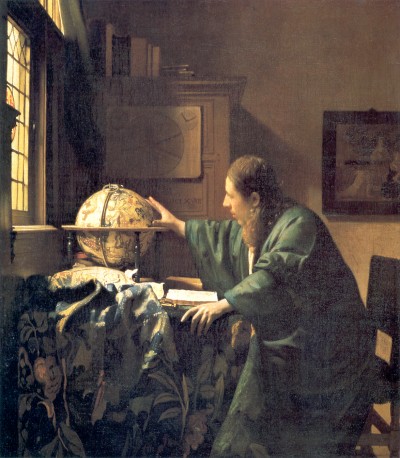 #99
We know no more than he knew then.
We see farther and imagine numbers
Larger, but the same old infinities
Confront us, we still count to ten,
See through mirrors dying fire's penumbra,
Envision alien cities,
And watch for asteroids to come too near.
Like him, we are empty of fear,
Assume the universe is like a globe,
To be dissected and mapped, lobe by lobe.
He touches the heavens and says a prayer,
Not for insight, guidance, or grace
(Though he longs to pierce the layers
Of darkness), but to transcend space.
Note: This is one of more than 100 poems after paintings or images, which can be viewed at the blog, Zealotry of Guerin.
Christopher Guerin is the author of two books each of poetry and short fiction, a novel, and more than a dozen children's books. If he hadn't spent 26 years as an arts administrator, including 20 years as President of the Fort Wayne Philharmonic, perhaps he'd have worked a little harder getting them published. His consolation resides in his fiction and poems having been published in numerous small magazines, including Rosebud, AURA, Williams and Mary Review, Midwest Quarterly, Wittenberg Review, RE: Artes Liberales, DEROS, Wind, and Wind less Orchard. His blog, Zealotry of Guerin, features his fiction and poetry, including his sonnet sequence of poems after paintings, "Brushwork." He is the V.P. of Corporate Communications at Sweetwater Sound, Inc., the national music instrument retailer.
Latest posts by Christopher Guerin (Posts)
Tweet
Print This Post