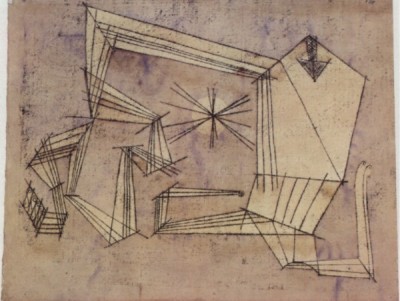 [1]
#75
We thought, when we were the heart of the universe,
The constellations accumulate the divine.
We chanted as we watched the gods slowly disperse,
Replaced by single stars and Albert Einstein.
A star can fall. There's too much of velocity,
Distance, and duration in our current science,
Because there's no such thing as specificity.
Even if we could fly a billion light years hence,
What we want to see would be just as far away.
We might find a planet where men would want to stay.
Life could be altered. The sky would remain the same,
New constellations we'd have to give new names.
The discovered universe is not what we sought.
The only container of the stars is a thought.
Note: This is one of more than 100 poems after paintings or images, which can be viewed at the blog, Zealotry of Guerin [2].
Christopher Guerin is the author of two books each of poetry and short fiction, a novel, and more than a dozen children's books. If he hadn't spent 26 years as an arts administrator, including 20 years as President of the Fort Wayne Philharmonic, perhaps he'd have worked a little harder getting them published. His consolation resides in his fiction and poems having been published in numerous small magazines, including Rosebud, AURA, Williams and Mary Review, Midwest Quarterly, Wittenberg Review, RE: Artes Liberales, DEROS, Wind, and Wind less Orchard. His blog, Zealotry of Guerin, features his fiction and poetry, including his sonnet sequence of poems after paintings, "Brushwork." He is the V.P. of Corporate Communications at Sweetwater Sound, Inc., the national music instrument retailer.
Latest posts by Christopher Guerin (Posts [6])