Posted on
March 30th, 2013
by Christopher Guerin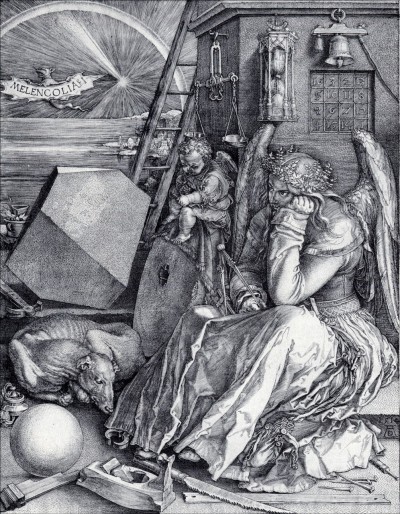 #93
An artwork is passage of time temporarily arrested.
Melancholy inevitably ensues, new effort wasted.
My world is not impossible, but imaginary,
A natural and a mechanistic menagerie:
The nodding babe and the slumbering hound,
The skull dreaming in the polyhedron,
The ladder to rainbow and splintered sun.
I must unbalance scales, ignore the bell,
And drain the hourglass sand out of its shell.
The nails and the knife both shorn of evil,
The age's golden sphere now leaden still,
My calipers measure a pointless spell.
Despondently, I await the next alchemy of duration.
I'll concentrate forever, then begin my final creation.
Note: This is one of more than 100 poems after paintings or images, which can be viewed at the blog, Zealotry of Guerin.
Christopher Guerin is the author of two books each of poetry and short fiction, a novel, and more than a dozen children's books. If he hadn't spent 26 years as an arts administrator, including 20 years as President of the Fort Wayne Philharmonic, perhaps he'd have worked a little harder getting them published. His consolation resides in his fiction and poems having been published in numerous small magazines, including Rosebud, AURA, Williams and Mary Review, Midwest Quarterly, Wittenberg Review, RE: Artes Liberales, DEROS, Wind, and Wind less Orchard. His blog, Zealotry of Guerin, features his fiction and poetry, including his sonnet sequence of poems after paintings, "Brushwork." He is the V.P. of Corporate Communications at Sweetwater Sound, Inc., the national music instrument retailer.
Latest posts by Christopher Guerin (Posts)
Tweet
Print This Post