Posted on
March 23rd, 2013
by Christopher Guerin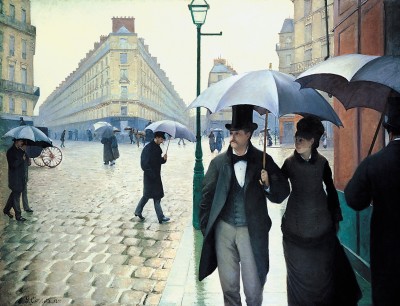 #92
Walking the streets of Paris with my wife,
Feeling her heart through her hand on my arm
(It is April and we're here for a week),
We celebrate twenty five years, a life
Of mutual shelter beneath the storm,
Sharing a blue umbrella as we seek
Out the old soul behind the city's charms,
What we've found in each other countless times
When the sun has broken through and we shine.
She gasped when she saw the Eiffel Tower,
Her wonder more thrilling than its power,
While the Winged Victory's arms were not missed,
Because she sought to entwine hers with mine,
And in front of Rodin's The Kiss, we kissed.
Note: This is one of more than 100 poems after paintings or images, which can be viewed at the blog, Zealotry of Guerin.
Christopher Guerin is the author of two books each of poetry and short fiction, a novel, and more than a dozen children's books. If he hadn't spent 26 years as an arts administrator, including 20 years as President of the Fort Wayne Philharmonic, perhaps he'd have worked a little harder getting them published. His consolation resides in his fiction and poems having been published in numerous small magazines, including Rosebud, AURA, Williams and Mary Review, Midwest Quarterly, Wittenberg Review, RE: Artes Liberales, DEROS, Wind, and Wind less Orchard. His blog, Zealotry of Guerin, features his fiction and poetry, including his sonnet sequence of poems after paintings, "Brushwork." He is the V.P. of Corporate Communications at Sweetwater Sound, Inc., the national music instrument retailer.
Latest posts by Christopher Guerin (Posts)
Tweet
Print This Post