Posted on
March 20th, 2013
by Jeff McDonald
PLEASE NOTE that the following words are penned in a distant land, far to the south and west of that arctic-like realm that is home to so many of you. 
It's been cooler – even cold! – these last few months … and it's been grayer, too, from clouds that block the sun, yet deliver no rain … and at times it's been way too windy for me. Eh, winter!
But today, Spring is coming back. Today, I went out to the side yard of this place where we were staying, and was greeted not just with the head of the house's septic tank system, and the assurance that all was well with said system … but by a bluebonnet, as well … my first bluebonnet of the new year!
Today, spring is coming back.
I've lived in West Texas long enough to appreciate that we seem to have only two seasons in our part of the Lone Star State … SUMMER, and NOT-QUITE-SUMMER.
But not today … for today, at least, SPRING is coming back … and I'm thinking that maybe there are ways I should be coming back, too. More on that later … but, for now, enjoy my bluebonnet.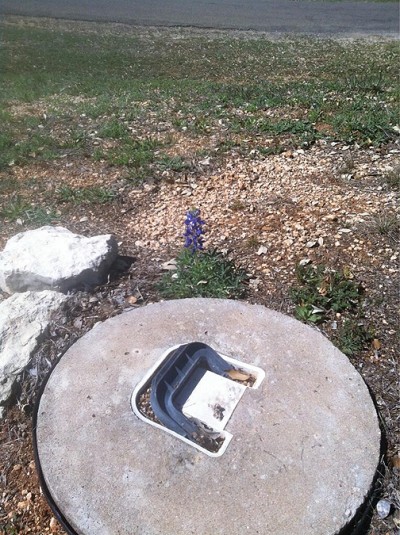 There's a saying around here, something like, "I wasn't born in Texas, but I got here as fast as I could!" That's me. I'm a 'dang Yankee from back-east' who settled in the Lone Star State after some extended stays in the eastern U.S., and New Mexico. I worked as an archaeologist for a few years before dusting off my second major in English, and embarking on a 25-year career in journalism. Since then, I've embraced the dark side of the force, and now work in PR for a community college in Midland, Texas.
Latest posts by Jeff McDonald (Posts)
Tweet
Print This Post