Posted on
March 9th, 2013
by Christopher Guerin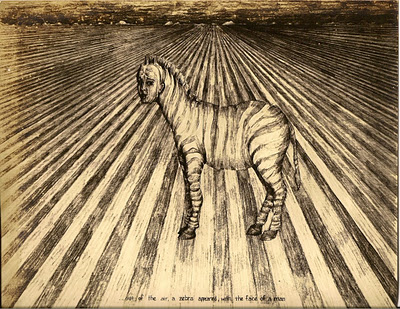 #42
That is my face on the zebra's body.
The striped plain is habitat and prison,
But no dream, not even a vision.
Move but slightly, I become nobody.
I can't remember how I came to be.
Perhaps I was bewitched by the gods.
I am a creature against all the odds,
A thinking, feeling singularity.
Animals are defined by their camouflage,
But not men, and I am neither one.
Come, capture me. I can dodge
Your eye — before you start, you're done.
But, in doing so, I lose myself as well
In this dry, cold, vanishing point of Hell.
Note: This is one of more than 100 poems after paintings or images, which can be viewed at the blog, Zealotry of Guerin.
Christopher Guerin is the author of two books each of poetry and short fiction, a novel, and more than a dozen children's books. If he hadn't spent 26 years as an arts administrator, including 20 years as President of the Fort Wayne Philharmonic, perhaps he'd have worked a little harder getting them published. His consolation resides in his fiction and poems having been published in numerous small magazines, including Rosebud, AURA, Williams and Mary Review, Midwest Quarterly, Wittenberg Review, RE: Artes Liberales, DEROS, Wind, and Wind less Orchard. His blog, Zealotry of Guerin, features his fiction and poetry, including his sonnet sequence of poems after paintings, "Brushwork." He is the V.P. of Corporate Communications at Sweetwater Sound, Inc., the national music instrument retailer.
Latest posts by Christopher Guerin (Posts)
Tweet
Print This Post