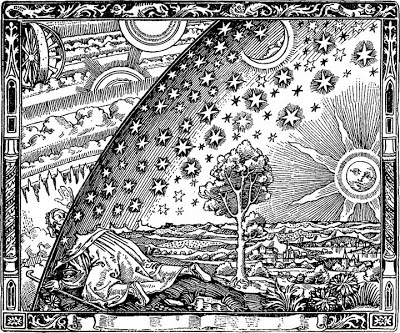 #90
The Milky Way is stone and silent fire,
Flying ice and dust, and expanding gas,
But what we find within the heliosphere
Suggests a whilom laboratory
Where the essential elements were cast
And the residues made preparatory
For the distillation that's planet Earth:
Europa's water, Io's sulfur,
Gases from Saturn and Jupiter,
Engineered for the terrestrial birth.
The traveler sees, beyond a starry veil,
Cosmic clockwork, eternal music.
Kneeling, he lifts a hand as if to hail
His Maker, the tinkering mechanic.
Note: This sonnet is one from a sequence of poems after paintings or images called "Brushstrokes." The entire sequence can be viewed at the blog, Zealotry of Guerin.