Posted on
February 23rd, 2013
by Christopher Guerin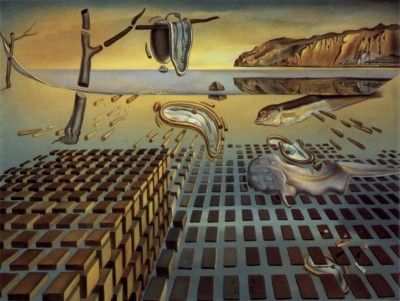 #83
There is no time. There's only memory,
Rows of sodden boxes beneath a sea
So pure that even the sardines have dreams
Of swimming through the sun's occluded beams.
A bullet from the brain becomes a memory box,
Transfigured by the melting of the clocks.
Floating mountains and rootless trees in pieces
Will linger, so, until duration ceases.
These aren't headstones of recollection.
Impervious to breath and desiccation,
They can become too numerous to count.
I, for one, would like to know the amount.
Each box retains its substance, color, and shape,
But when it's opened nothing can escape.
Note: This poem is one of many poems after paintings or images, which can be viewed at the blog, Zealotry of Guerin.
Christopher Guerin is the author of two books each of poetry and short fiction, a novel, and more than a dozen children's books. If he hadn't spent 26 years as an arts administrator, including 20 years as President of the Fort Wayne Philharmonic, perhaps he'd have worked a little harder getting them published. His consolation resides in his fiction and poems having been published in numerous small magazines, including Rosebud, AURA, Williams and Mary Review, Midwest Quarterly, Wittenberg Review, RE: Artes Liberales, DEROS, Wind, and Wind less Orchard. His blog, Zealotry of Guerin, features his fiction and poetry, including his sonnet sequence of poems after paintings, "Brushwork." He is the V.P. of Corporate Communications at Sweetwater Sound, Inc., the national music instrument retailer.
Latest posts by Christopher Guerin (Posts)
Tweet
Print This Post