Posted on
January 25th, 2013
by Christopher Guerin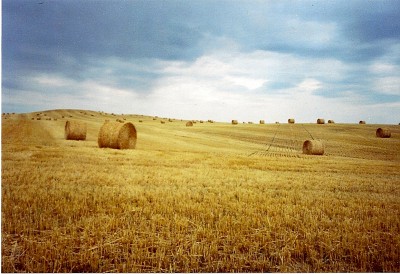 #102
I've wondered how they kept the blades that sharp
For such cutting when they struggled with scythes.
Hay is tough, dullness only plucked it like a harp;
Why some men left the harvest to their wives.
Today, machines can cut and bale a field
Within hours, but can't increase the yield.
The flung bales crush the serried rows
Of severed stalks, but scattered straws
Defy the yield like impudent scofflaws,
Yet to be turned under by the plow.
We keep our distance, merciful and shy,
And dare not bend a stalk with shoe or eye.
In memory of Lucien Stryk, poet, teacher, friend.
Note: This sonnet is one from a sequence of poems after paintings or images called "Brushstrokes." The entire sequence can be viewed at the blog, Zealotry of Guerin. Photo taken by the author.
Christopher Guerin is the author of two books each of poetry and short fiction, a novel, and more than a dozen children's books. If he hadn't spent 26 years as an arts administrator, including 20 years as President of the Fort Wayne Philharmonic, perhaps he'd have worked a little harder getting them published. His consolation resides in his fiction and poems having been published in numerous small magazines, including Rosebud, AURA, Williams and Mary Review, Midwest Quarterly, Wittenberg Review, RE: Artes Liberales, DEROS, Wind, and Wind less Orchard. His blog, Zealotry of Guerin, features his fiction and poetry, including his sonnet sequence of poems after paintings, "Brushwork." He is the V.P. of Corporate Communications at Sweetwater Sound, Inc., the national music instrument retailer.
Latest posts by Christopher Guerin (Posts)
Tweet
Print This Post