Posted on
January 19th, 2013
by Christopher Guerin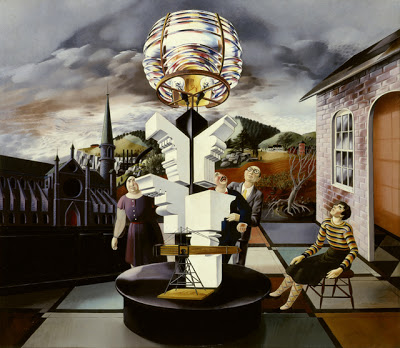 #101
The light of the world is an outside light?
A being of gadgets, cornices, plinths,
And networks of hidden, grinding parts.
What's visible is only black or white.
Its bulb lords it like a petulant prince,
Impatient with the diplomatic arts.
I have two moods, it says, I weep or laugh.
Or, in your language, I am on or off.
We yearn to praise, worry that if we pray,
We shall ignite it when we need it least.
The sunlight would dry up its meager spray.
The Light of the World turns NIGHT into DAY!
Secretly we fear and hate the beast.
Note: This sonnet is one from a sequence of poems after paintings or images called "Brushstrokes." The entire sequence can be viewed at his blog, Zealotry of Guerin.
Christopher Guerin is the author of two books each of poetry and short fiction, a novel, and more than a dozen children's books. If he hadn't spent 26 years as an arts administrator, including 20 years as President of the Fort Wayne Philharmonic, perhaps he'd have worked a little harder getting them published. His consolation resides in his fiction and poems having been published in numerous small magazines, including Rosebud, AURA, Williams and Mary Review, Midwest Quarterly, Wittenberg Review, RE: Artes Liberales, DEROS, Wind, and Wind less Orchard. His blog, Zealotry of Guerin, features his fiction and poetry, including his sonnet sequence of poems after paintings, "Brushwork." He is the V.P. of Corporate Communications at Sweetwater Sound, Inc., the national music instrument retailer.
Latest posts by Christopher Guerin (Posts)
Tweet
Print This Post