Posted on
January 2nd, 2013
by Scott Stein
Having concluded from reading online posts and articles, and from observing our hamster, that the hamster cages sold in stores are not nearly large enough, I decided to build a custom cage for our Syrian hamster, Snickers.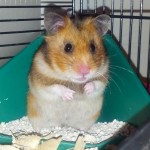 Snickers in her old cage, when she was a bit smaller
She had been living in a cage that we had modified to connect to a plastic storage bin. When people saw it, they usually thought it was over-the-top extravagant for a hamster, that I had gone overboard, but I knew that many hamster owners agree that 360 square inches is the minimum space pet owners should give a hamster. That's the size of a 20-gallon fish tank (30×12). People in the hamster-owner community (yes, there is such a thing) would not consider this set-up to be extravagant.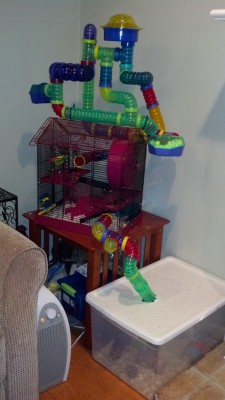 All Living Things hamster cage connected to a plastic storage bin
The combined space we provided exceeded the 360-sq.-inch minimum, but neither space was quite big enough by itself, and with toys and accessories, both spaces were crowded. The weekly chore of getting the tunnels to balance on the top of the narrow cage after cleaning them wasn't much fun. Also, I didn't like having a large plastic bin on display in the family room. I wanted something more aesthetically pleasing that would also give Snickers lots of room. Besides, when I searched for images of "custom diy hamster cages," I saw that some people had built really large habitats. It seemed to me to be a fun project to do with my son. We'd end up with a large hamster home, a hamster mansion even, that would look good in our family room.
It indeed was a fun (and time-consuming) project to do with my son. We converted an old piece of furniture into a large hamster home. We had a chest of four drawers with hutch support in the basement. First I cut out the drawer dividers with a jigsaw.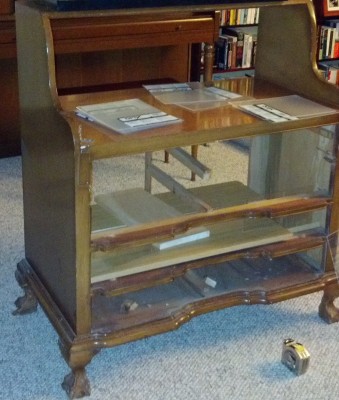 This was gathering dust in the basement
We used shelves we had left over from an old Ikea bookcase and cut them with a circular saw to make a floor for the lower level. We used L-brackets and mending plates to connect the floor sections and attach them to the inside walls of the furniture.
We had leftover vinyl flooring that we cut to size for both levels of floor to keep it safe from moisture.
We removed the back of the furniture.
We used 1/2 inch yard roll wire to line the inside of the lower room walls so they could not be chewed through. That yard roll also covers the entire back of the furniture (staple gun) to provide ventilation.
We used a 2 1/4 inch hole saw to cut holes for Crittertrail tubes to connect sections.
We cut wood to size to build a front frame for the top level (on the surface of the furniture) and drilled it into the furniture and stapled yard roll wire from the top of this wood frame to the top of the furniture. Acrylic sheets and aquarium silicon were used to seal the sides.
For the doors, we bought two expandable screens that are used for windows and we ripped out the screen and siliconed plastic in its place. Using hooks and loops, these doors are secured on each end to the furniture itself, on the lower level, and to the wood frame we built, on the upper level. Both doors can be completely removed. Cleaning is very easy because our hamster is potty trained. She only urinates in the litter box Crittertrail outhouse above the structure (on the left), and only defecates in the tunnels.
The main level is about 612 sq. inches (34×18). The two rooms on the lower level are about 270 sq. inches each (16×17). Snickers has over 1,100 sq. inches of floor space. She uses all of it.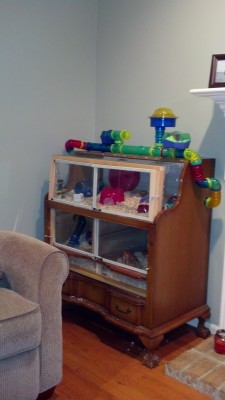 A nice addition to our family room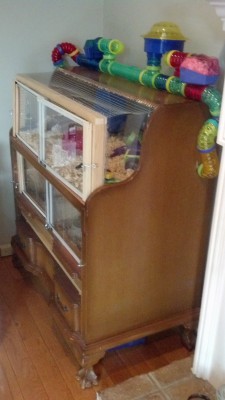 Snickers made her nest in the upper right Crittertrail outhouse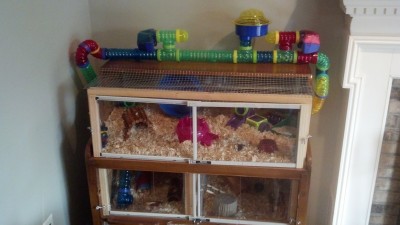 Front view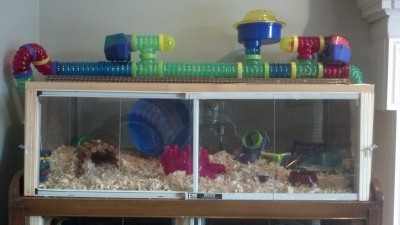 The main level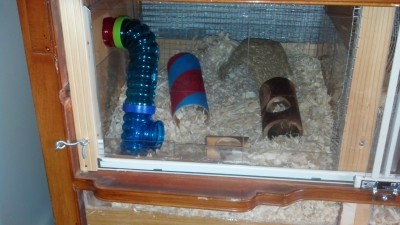 The left lower level has deep substrate for burrowing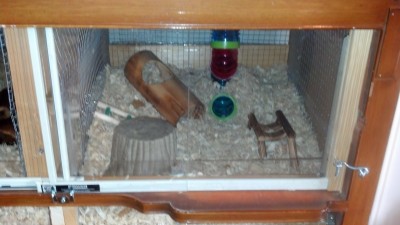 The right lower level has deep substrate for burrowing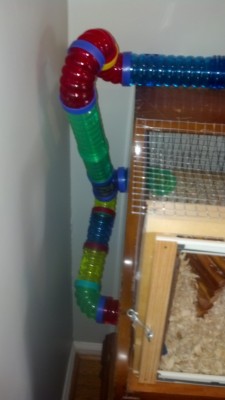 The Crittertrail tunnels connect all sections of the home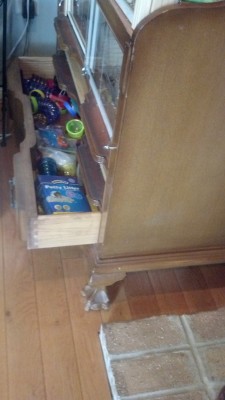 We keep hamster supplies in the bottom drawer
Scott Stein is editor of
When Falls the Coliseum
and runs the humor site
STEINLINES
. He is author of the novels
Lost
and
Mean Martin Manning
. His short fiction, book reviews, and essays have been published in the
Philadelphia Inquirer
,
The G.W. Review
,
Liberty
,
National Review
,
PopMatters.com
, and
Art Times
. He is a professor of English at Drexel University. Scott tweets
@sstein.
Latest posts by Scott Stein (Posts)
Tweet
Print This Post