Posted on
November 2nd, 2012
by Scott Stein
Bucks County is still the worst in Pennsylvania for power outages. Many schools are closed again today. There is a rumor that Peco is out of transformers. I hope it's just a rumor. We have had power the entire time, but our neighborhood is the exception. Our family and friends don't know when their power will return. Each day we hear of another nearby area getting power, so maybe it'll all be restored soon. Fortunately, some restaurants and stores (supermarkets) near us have electricity now and we didn't have much flooding because there was less rain than predicted. People here aren't facing the terrible conditions reported in Staten Island and elsewhere. Here is Peco's outage map.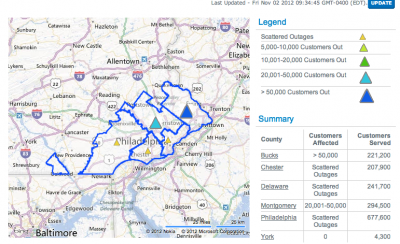 Scott Stein is editor of
When Falls the Coliseum
and runs the humor site
STEINLINES
. He is author of the novels
Lost
and
Mean Martin Manning
. His short fiction, book reviews, and essays have been published in the
Philadelphia Inquirer
,
The G.W. Review
,
Liberty
,
National Review
,
PopMatters.com
, and
Art Times
. He is a professor of English at Drexel University. Scott tweets
@sstein.
Latest posts by Scott Stein (Posts)
Tweet
Print This Post